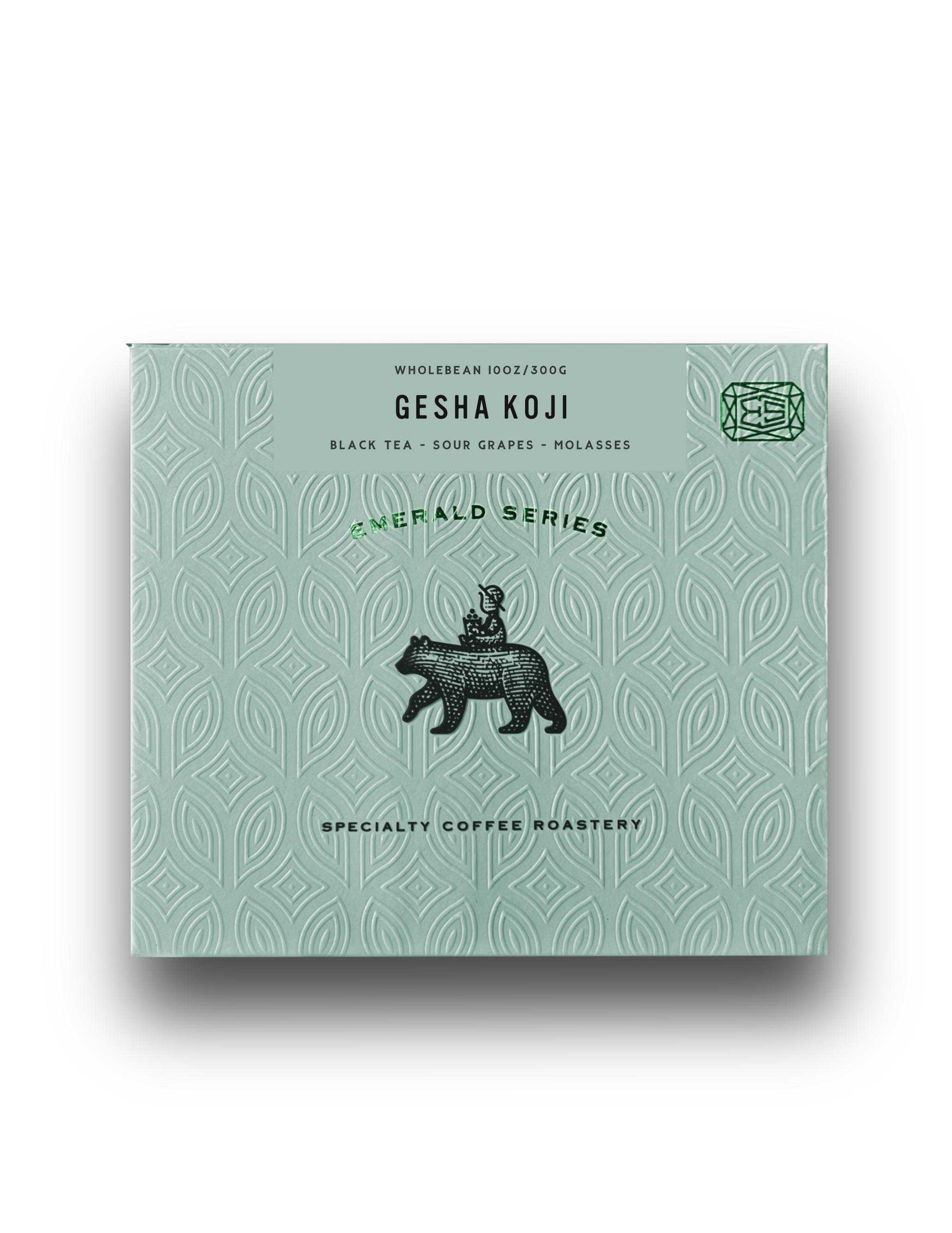 Emerald Series: Gesha Koji
Shady and Elias are constantly pushing the envelope for new and exciting coffees and using Koji spores is one of their new ventures in coffee.
Coffee grower
Shady & Elias Bayter
Notes in cup
Molasses, Black Tea, Sour Grapes
Origin
Colombia, Tolima, Fresno
Shady and Elias are constantly pushing the envelope for new and exciting coffees and using Koji spores is one of their new ventures in coffee. To elevate the clarity and quality of the coffee even further, the Bayter brothers decided to use a Gesha from their farm to process with Koji. Gesha are known to be light and floral with a calm acidity, and this processing method is going to enhance the sweetness and create a truly unique coffee. For this coffee, the Koji fungus was replicated in steamed rice, then dried and ground into a powder. The Koji powder is then evenly spread throughout the coffee cherries and fermented anaerobically for 36 hours. During the fermentation process, the Koji (asperilligus oryzae) converts the enzymes into sugars via a process called saccharification. The coffee is then depulped and dried on raised beds..
Why do you exclusively offer Colombian coffees?
From the very beginning of The Boy & The Bear – Coffee Roastery, our mission has been to uphold a commitment to genuine and transparent coffee processes. We take pride in meticulously overseeing the journey from coffee crop to your cup to ensure we serve nothing short of the best. Our dedication extends beyond coffee; it's about sharing our rich Colombian culture with our community. At The Boy & The Bear, it's not just about the specialty Colombian coffees. It's an immersive experience that encapsulates Colombian culture, its vibrant people, spirited music, and everything that embodies the positivity and liveliness of our country. As our founder, Andres Piñeros, beautifully puts it: "The Boy & The Bear – Coffee Roastery is a magical surrealism of the Colombian coffee experience and the culture that surrounds it." We invite you to savor this enchanting journey with us.
When will my ordered coffee be delivered to my doorstep?
At The Boy & The Bear, we're committed to delivering your coffee promptly. Currently, we process and ship all orders Tuesdays, Wednesdays & Fridays ensuring a swift 2-3 day delivery service. Rest assured, your coffees will be freshly roasted just 1 to 4 days before they embark on their journey to your doorstep. We offer a flat-rate shipping fee of $6.99, making it convenient for you, no matter where you are in the US. Your coffee's journey to you is in safe hands!
Perfect brewing recipe for pour-over
At The Boy & The Bear, we celebrate the unique character and personality of our Colombian coffees. We believe that each cup tells a story of its own. That's why we encourage our customers to brew our coffee in the way that suits them best, because the best cup of coffee is the one YOU enjoy, tailored to your personal taste. Our suggested ratio for Pour-Over coffees is 13 grams of water per every 1 gram of our specialty Colombian coffee. Our standard recipe at our cafes is: Coffee: 30g Water: 390g at 201°F / 93.8°C Brewing time: Approximately 3:30-4:00 minutes When it's time to brew at home, use this as a reference to create a superb cup of our Colombian coffee. Please note that the grind size and consistency significantly affect the final flavor, so don't hesitate to experiment and find your perfect method. Our knowledgeable baristas are always ready to assist you and answer your questions when you visit our cafes.
Perfect brewing recipe for espresso
At The Boy & The Bear, dialing in and brewing espressos is a continuous process throughout the day as our team strives for the perfect shot. We aim to keep it simple to achieve precise and efficient results. There are four key variables we use daily at our cafes with our espresso machines. Here's a quick overview of our espresso guidelines, a great starting point for your espresso journey: Dose: 16g of espresso in (using an 18-gram portafilter basket) First Drop: 10 seconds with a 4-second pre-infusion time/pause Time: 36 to 42 seconds Yield: 32g to 38g of espresso out For espresso brewing, all our coffees have specific resting periods: Classic Espresso: At least 13 days from the roasting date. Modern Espresso: At least 25 days from the roasting date. Feel free to experiment and adjust these parameters to your liking. Our expert baristas are on hand at our cafes to offer guidance and support whenever you have questions. Enjoy your espresso adventure!
What is the best timing and resting period for brewing our coffees
When it comes to the perfect timing and resting period for brewing our Colombian coffees, here's what you need to know: Espresso: For an exceptional espresso experience, our Colombian coffees need a minimum of 13 days of rest after the roasting day. However, they truly shine and achieve peak flavor and consistency around the 25-day mark. Pour-Overs and Home Brewing: If you're brewing our coffees using pour-over methods or at home, we recommend starting to brew between 4 days from the roasting date and up to 25 days after. During this period, all the unique characteristics of our coffees fully develop, the layers of flavors open up, and the tasting experience becomes even more delightful. Enjoy your freshly brewed cup of Colombian coffee within this suggested timeframe to savor the full spectrum of flavors and aromas.